Sweat contains important information about our health, and researchers at the University of Hawaiʻi at Mānoa College of Engineering have made a significant breakthrough in sweat analysis with their innovative 3D printed wearable sweat sensor called the "sweatainer."
This small, wearable device collects and analyzes sweat, offering a glimpse into the future of health monitoring. Traditional approaches for sweat collection require special handling and costly laboratory equipment. The recent emergence of wearable sweat sensors has addressed some of these challenges, but these devices still remain single-use.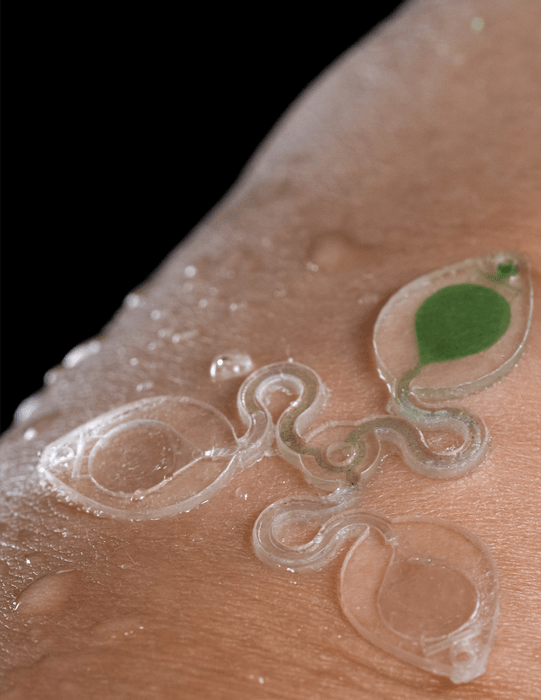 The sweatainer is unique in its "multi-draw" sweat collection method, which allows for the collection of multiple, separate sweat samples for analysis either directly on the device or sent to a lab. Inspired by the vacutainer used in clinical blood sampling, this advancement not only makes sweat collection more efficient but also opens up new possibilities for at-home testing, storing samples for future research, and integrating with existing health monitoring methods.
Precious Bodily Fluids
"Sweat is a really rich biofluid- it allows us to have a noninvasive window into the body to really understand a person's physiological health state and so if we want to look at disease states like cystic fibrosis or diabetes we have access to the body in a way that would be similar to what we'd get through blood draws," said Tyler Ray, Assistant Professor at UH Mānoa College of Engineering.
"We're really trying to think about what are the local needs here and how to address them. And so we're doing that in partnership with JABSOM and the COBRE diabetes center, and then we're working here in the College of Engineering to innovate and broadly build the workforce focused on healthcare innovation."
Wearable Sensors? No Sweat!
The researchers utilized 3D printing to showcase the vast opportunities for accessible, innovative, and cost-effective prototyping of advanced wearable sweat devices. Through the blueprint established in the sweatainer, the researchers hope to continue to drive innovation to create a future where personal health monitoring is more accessible, convenient, and insightful.
The findings were published in a paper titled "Skin-interfaced microfluidic systems with spatially engineered 3D fluidics for sweat capture and analysis", in the Science Advances journal, and you can access the full paper at this link.
Come and let us know your thoughts on our Facebook, Twitter, and LinkedIn pages, and don't forget to sign up for our weekly additive manufacturing newsletter to get all the latest stories delivered right to your inbox.